Fabric Cutting and Stitching Services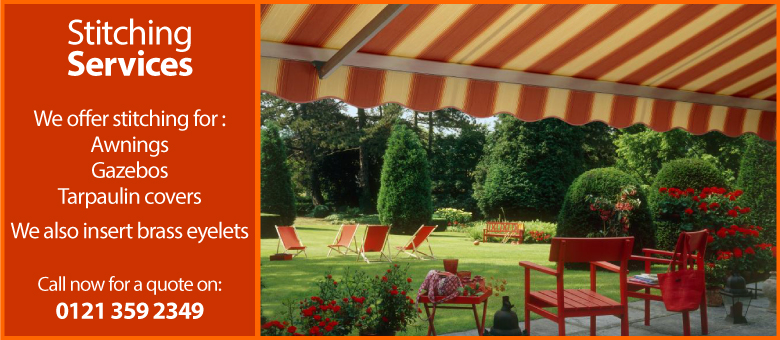 Here at fabric UK we don't just supply fabric through wholesale or retail, we create lots of custom made customer creations, whether it's a single bespoke cover you need for your bicycle or you need hundreds of covers, we can take care of your made to measure custom requirement, we provide a complete efficient service from supply of fabrics to cutting and stitching.
Even if you just need fabrics simply cut to your desired shape and sizes we can do it using laser cutting or we can multi lay the fabric and use Eastman fabric cutting knives to cut your requirements.
We have the facility to bond fabrics, make chair covers, weld PVC coated fabrics using high frequency welding, we offer bespoke roll to roll quilting on fabrics with a choice of designs, from stock i.e. diamonds, circles, boxed etc. or you can send us your design and we will give you a competitive quote.
Has your awning fabric seen better days, we can custom make to measure a replacement awning fabric for your garden awning, parasol, gazebo cover, shop awning, not only we can make things with our fabrics we can also attach fixing accessories and attachments i.e. webbing straps, steel buckles, side release buckles, sew in Velcro, insert brass or nickel eyelets in a range of sizes colours, finishes and shapes.
Works Done
Below is a list of some regular, quite common jobs we have carried out:
Backdrops
Stage curtains
Display curtains
Venue drapes
Outdoor covers
Basket Liners
Banners
Flags
Dust Sheets
Outdoor Covers
Awning Covers
Awnings
Drapes
Night Sheets
General Purpose Covers
Waterproof Covers
Gazebo covers
Tarpaulin sheets
Aprons
Special niche products
Car covers
Exhibitions covers
Table covers
Floor covering
Play Pit Covers
High frequency PVC Welding
Boat Covers
Side Curtains
Skip Nets
Canopie
Market Stalls
Hessian Sacks
Clients
We do regular stitching work, cutting and fabric makeup service for:
Schools and Colleges
Pubs and Night Clubs
Theatres
Council Halls
Local Villiage Halls
Mobile Homes
Businesses
Offices
Car Showrooms
Exhibitions Halls
Market Stands
Museumes
Further Info
We can meet your desired delivery timescales at a grade "A" quality standard.
Get in touch with us for further information or to get a competitive quote.
If you are able make a simple sketch of what you want making or doing, send it over to us via Fax or scan a copy and email it to us at orders@kbt.co.uk
If you can come along to our fabric showroom and show us what needs doing we would get a better idea, visit us any time Monday through to Firday 9.30am till 6.00pm, Saturdays 10.00am till 5.00pm we have an open door policy, no need for any appointments, contact us on telephone 0121 359 2349.